BMW Launches 2013 135is Coupe and Convertible
BMW 1 Series
performance model and also on paper the new-for-2013 135is looks like it is going to be great.
However it has to be understood that we are still upset that the 1 Series M Coupe that we all loved was discontinued after just a year. According to
BMW
itself, the 135is is a top performance model for 1 Series in 2013 although it being amazing makes the 1M's end seem very permanent.
But there is still a lot about the new 135is for us to be excited. It is available in a coupe as well as a convertible body style; the hotter 1 Series has a much more powerful edition of the 3.0-litre turbocharged inline-six that comes from the 135i, the car has a 320 horsepower which is 20 more than the standard car and also torque of 317 pound-feet which is 17 more. The clutch transmission is available for both six-speed manual and a seven-speed dual clutch.
There is also a revised sport suspension that comes as a standard along with visual upgrades such as the latest 18-inch alloy wheels, black mirror caps and a blacked-out grille along with all the typical cosmetic changes of a usual M Sport. The BMW 135is is now ready to order as you are reading this article while the initial deliveries starting in fall. The price of the convertible is $44,895 and for the coupe it is $44,195 while for a destination change the charges are $895. Therefore, wave the 1 Series M a final goodbye and look forward to the 135is model.
Latest modifications of
BMW 1-series Coupe

BMW 1-series Coupe
Production: 2007 - PRESENT
Modifications: 61
Latest reviews and tests of
BMW

automobiles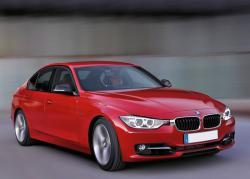 BMW 3 Series: It Is Even More Breath
Article added: 11 July 2012
Commentaries about «
BMW Launches 2013 135is Coupe and Convertible

»
Auto news navigation
Recent commentaries
Paul I love my Chrysler GTS turbo injection 2.2 1988 februari, My father imported this car in ...
Chrysler GTS Turbo
CHRISTOPHER THE VEHICLE LOOK GOOD AND WELL DESIGNED. i WILL LIKE TO OWN ONE. HOWEVER, I MAY PREFER A ...
Mitsubishi Pajero Pinin L...
Mamoloko I really want a demo of Hyundai i20 2015 in red or white...pls assist,this is my dream ...
Hyundai i20 1.25 i-Motion
gunasekaran- hi, i want to contact with daewoo motars korea..Bcause i am having daewoo nxiia petrol ...
Daewoo Nexia
cardro Where's the FoRd Sierra LX 2.0 1989 ...
Ford Sierra