Honda Integrating Siri Into Select Models
Accord
, Accura RDX and ILX,
Honda
has shaken hands with Apple.
Using the incorporated system of microphones and speakers on the dashboard, iPhone owners having is 6 on their devices will be able to automate certain tasks using voice commands. Adding more to the system, an eye free system will be introduced in iPhone that will turn off the screen to reduce distraction. Honda is claiming to enhance its Bluetooth and handsfree system in order to integrate it with Siri functionality. As it is available in only three models of the lot, it will be soon available in others as well.
In past
Chevrolet
also introduced Siri integrated
Spark
and Sonic and Mercedes and
Chrysler
have also played with the technology. But, where the technology stands right now, efficient voice commands are far away from there.
Latest modifications of
Honda Accord

Honda Accord
Production: 1977 - 2015
Modifications: 158
Latest reviews and tests of
Honda

automobiles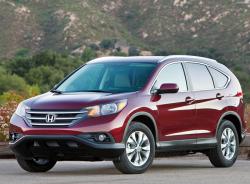 Honda CR-V EXL 4WD 2.0 - Japanese Quality
Article added: 18 July 2012
Commentaries about «
Honda Integrating Siri Into Select Models

»
Auto news navigation
Recent commentaries
Paul I love my Chrysler GTS turbo injection 2.2 1988 februari, My father imported this car in ...
Chrysler GTS Turbo
CHRISTOPHER THE VEHICLE LOOK GOOD AND WELL DESIGNED. i WILL LIKE TO OWN ONE. HOWEVER, I MAY PREFER A ...
Mitsubishi Pajero Pinin L...
Mamoloko I really want a demo of Hyundai i20 2015 in red or white...pls assist,this is my dream ...
Hyundai i20 1.25 i-Motion
gunasekaran- hi, i want to contact with daewoo motars korea..Bcause i am having daewoo nxiia petrol ...
Daewoo Nexia
cardro Where's the FoRd Sierra LX 2.0 1989 ...
Ford Sierra