Honda Sells Millionth Hybrid 13 Years after Introducing Insight
insight
during 1999.
As the sales pace of
Honda
is getting faster, it took Honda almost 6 year to sell the 0.1 million of the hybrid cars. By then only two models,
Civic
Hybrid and
Accord
Hybrid were on the lot. The other 0.1 million sales completed in 2007 with no new models added to the collection. The second gen insight was introduced in 2009 and
CR-Z
and Fit hybrid in 2010. By December 2010, the company had sold 0.6 million units, and at the same time the introduction of new models was gathering pace. Three new models were introduced in 2011, but in Japan only. This year Acura ILX hybrid has been introduced in the US and Canada. After these introductions, the cumulative sales of the brand reached 7 digits. 318000 units are sold in the US. The company is planning to introduce new Accord plug-in hybrid, next year. It is said that it will have improved power trains.
Toyota being the leader of hybrid units is selling more than million units a year now with the total sales reaching over 4 million across the years. No doubt the sale is impressive, but it took more than 10 years by Honda and Toyota to reach these figures. This has helped a lot to fulfill the White House's goal of reaching 1 million units on the road by 2015.
Latest modifications of
Honda Insight

Honda Insight
Production: 2009 - 2014
Modifications: 10
Latest reviews and tests of
Honda

automobiles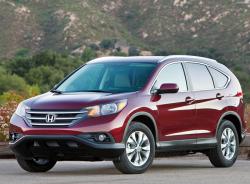 Honda CR-V EXL 4WD 2.0 - Japanese Quality
Article added: 18 July 2012
Commentaries about «
Honda Sells Millionth Hybrid 13 Years after Introducing Insight

»
Auto news navigation
Recent commentaries
Paul I love my Chrysler GTS turbo injection 2.2 1988 februari, My father imported this car in ...
Chrysler GTS Turbo
CHRISTOPHER THE VEHICLE LOOK GOOD AND WELL DESIGNED. i WILL LIKE TO OWN ONE. HOWEVER, I MAY PREFER A ...
Mitsubishi Pajero Pinin L...
Mamoloko I really want a demo of Hyundai i20 2015 in red or white...pls assist,this is my dream ...
Hyundai i20 1.25 i-Motion
gunasekaran- hi, i want to contact with daewoo motars korea..Bcause i am having daewoo nxiia petrol ...
Daewoo Nexia
cardro Where's the FoRd Sierra LX 2.0 1989 ...
Ford Sierra