CHRYSLER 300C · photos, packages and modifications
Chrysler
300C, compare to the old version that is brash styling it has been designed with less tone, but still it made impact regarding its arrival in the market. This is because of the strong road presence, high shoulder lines, the option of imposing 20-inch alloys and short overhangs it has. It also comes with the new feature as vastly improved quality cabin. If you think about the design of lights, in the front it has the C-shaped LED running lights and the joining of rear light clusters has been done with the help of a rear bumper that runs with a single piece of chrome. The important thing that you need to consider about this car is 8.4-inch touchscreen display, which provides most of the major controls from heated seats to the electric sun blinds. In this version, cheap plastics have been replaced by soft leather and high-quality materials.
The UK would probably get with just an engine option to start that provides 236 bhp and 550 mm with a 3.0-liter V6 diesel. It would be a very efficient thing to get the top speed of 144 mph and to get 0-62 mph by sprint time of just 7.4 seconds. This would be treated as the impressive stats of a car with that size and consequently 300C is the motorway cruiser with that accomplished quality. This car is available with road and engine noises as minimal one and with well weighted steering. Even on the more broken surfaces, the ride can become very jittery.
Under the testing of Euro NCAP, Chrysler 300C receives the rate as full five-star crash. If you consider about the excellent features of the 300C, it has a hi-tech safety kit along with over 70 active and passive safety systems. For effective stopping power in the wet weather, it has been designed with Rain Brake Support features that would probably remove water from the discs. In the presence of other cars you will get an alert from blind-spot indicator that flashes and beeps. You can also have adaptive cruise control to alert you. In order to protect the strangers from getting crashes with your car, a pop-up device is fitted in the bonnet. Since most of the parts of this car are quite expensive, it is necessary to keep the mechanical systems as the best one.
When compared to
BMW
7 series
and
Mercedes
S-Class
cars, the Chrysler 300C is as big as them, but it is not same as them in character as you expect. Even though it has a huge amount of space inside with lots of leg room for passengers, the headroom is less tight and hence a person with six feet tall can't go with the headroom. With the help of cup-holders and lots of storage cubbies available in the center console, you can heat or chill anything as you like. The main disappointment of this car is small boot, which just carries 481 liters and smaller than both
Audi
A6
and
BMW 5 series
. Fitting out the big items would be tricky because of the lack of flat floor and odd shape of a boot. It has no plans for the estate version like previous models.
A table of all modifications of
Chrysler model 300C
Total modifications: 6
Model name
Body type
Door
Po- wer
Trans- mission
0-100 km
Max spd
Fuel
Fuel rate
Chrysler 300C

2010 - 2011

3.0 CRD Signature Series
4
218 hp
5, Sequential automatic
7.6 s
230 km
Diesel
8.1 l
Chrysler 300C

2006 - 2011

HEMI 6.1 V8 SRT8
4
425 hp
5, Sequential automatic
5.0 s
265 km
Petrol
14.0 l
Chrysler 300C

2005 - 2011

3.0 CRD
4
218 hp
5, Sequential automatic
7.6 s
230 km
Diesel
8.1 l
Chrysler 300C

2004 - 2011

2.7 V6
4
193 hp
4, Automatic
11.1 s
209 km
Petrol
10.8 l
3.5 V6
4
253 hp
4, Automatic
9.2 s
219 km
Petrol
11.1 l
Chrysler 300C

2004 - 2010

HEMI 5.7 V8
4
340 hp
5, Sequential automatic
6.4 s
250 km
Petrol
12.3 l
Similar automobiles of other makers
Latest reviews and tests of
Chrysler

automobiles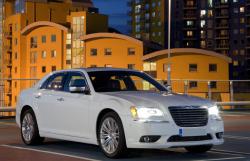 Chrysler 300C - German Stuffing
Article added: 21 December 2012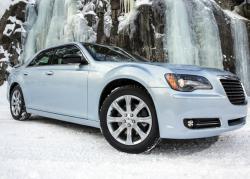 Ready to Chill with Chrysler 300 Glacier AWD Edition
News added: 18 January 2013
Commentaries about «
Chrysler 300C

» car model
Other Chrysler models
Recent commentaries
Paul I love my Chrysler GTS turbo injection 2.2 1988 februari, My father imported this car in ...
Chrysler GTS Turbo
CHRISTOPHER THE VEHICLE LOOK GOOD AND WELL DESIGNED. i WILL LIKE TO OWN ONE. HOWEVER, I MAY PREFER A ...
Mitsubishi Pajero Pinin L...
Mamoloko I really want a demo of Hyundai i20 2015 in red or white...pls assist,this is my dream ...
Hyundai i20 1.25 i-Motion
gunasekaran- hi, i want to contact with daewoo motars korea..Bcause i am having daewoo nxiia petrol ...
Daewoo Nexia
cardro Where's the FoRd Sierra LX 2.0 1989 ...
Ford Sierra